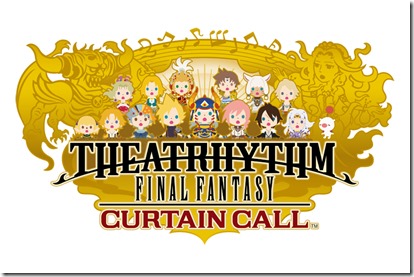 Square Enix has announced today that Theatrhythm Final Fantasy: Curtain Call will be headed west later this year on Nintendo 3DS. The game features over 200 songs from a large variety of Final Fantasy games, and a gigantic cast of characters in absolutely adorable form. Along with the full song list from the original game, you can expect to find songs from Final Fantasy VII: Advent Children, Final Fantasy XIV: A Realm Reborn, and Lightning Returns: Final Fantasy XIII along with many other titles. Key features of the title include:
Versus Battle Mode – Players can now compete head-to-head with friends and other users.
Quest Medley Mode – Songs from the vast Final Fantasy music catalogue make up unique quests; players can choose their own routes through short, medium and long quests. Players can also share these quests with friends.
New Characters – The game features over 60 new and old characters, including Barret (Final Fantasy VII) and Yuna (Final Fantasy X-2). Characters from spin-offs, like Benjamin (Final Fantasy Mystic Quest), Ramza (Final Fantasy Tactics) and Zack (Crisis Core: Final Fantasy VII) also make their debut in this game.
Collecta Crystarium – Clearing songs and winning battles allow players to obtain Collecta Cards that boost their character stats.
You can find the announcement trailer below, along with screenshots from the game. While no specific release date has been announced, this is great news for those of us who loved the first game. If you would like to get to playing now, you can purchase the original Theatrhythm Final Fantasy now – and of course you can pre-order Theatrhythm Final Fantasy: Curtain Call now!